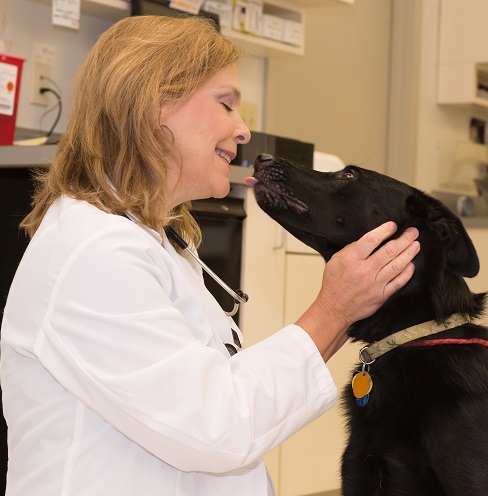 Dr. Jodi Heekin
Dr. Jodi Brown Heekin is the owner of Heekin Animal Hospital.  A life-long Kentuckian, she completed an undergraduate degree at Miami University, and was accepted into the Auburn University College of Veterinary Medicine.  She received her Doctor of Veterinary Medicine degree in 1987.
After graduation, she took a position at Tennessee Avenue Animal Hospital in Cincinnati. While at TAAH, she expanded her interest in internal medicine, and is knowledgeable in the diagnosis and treatment of a wide range of medical conditions.  She is also an experienced surgeon and is qualified to perform many types of surgical procedures.
Founding Heekin Animal Hospital in 2004 allowed her to bring together her education, experience, philosophy, and vision to cultivate an environment that provides a high quality and individualized veterinary experience for both pet owner and pet.  Practice ownership has also allowed her to rekindle a long term interest in veterinary dentistry.  She is committed to a lifetime learning process and regularly participates in continuing education both locally and nationally.  Membership in the on-line Veterinary Information Network provides instant access to the latest treatment options.
While she is driven by a keen interest in the technical aspects of physiology and medicine, what she finds most rewarding is the time that she spends with individual pet owners and their pets.  She is grateful for and honored by the many enduring client relationships that have developed over the last 28 years.
Life outside the hospital includes spending time with her husband and two children.  The family has a dog named Corey, and two cats, Tibby and Teddy.  Dr. Heekin enjoys music by attending local arts events and learning piano.  She also participates in her church's choral and handbell choirs. She is a "recreational chef"; i.e. she loves to cook (and bake!) but doesn't cook much day-to-day.  Thankfully, her husband is a capable cook himself, and no one goes hungry.  She also loves gardening, but these days, the garden gets even less attention than the kitchen.
Other Veterinarians
Heekin Animal Hospital is a technically a "solo" practice, meaning there is only one veterinarian.  However, you may occasionally find that there is another veterinarian standing in for Dr. Heekin.  These veterinarians have been carefully chosen to provide a seamless continuity in care for your pet.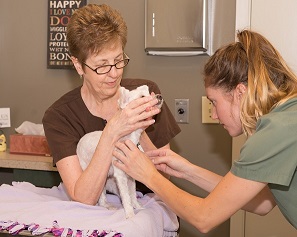 Staff
Each member of our staff brings a different talent or skill to our hospital, but the common thread among all of them is a friendly attitude, a willingness to help, and dedication to great patient care. 
Registered Veterinary Technicians
We are fortunate to have five Registered Veterinary Technicians, representing more than 60 years of experience! You can be assured that your pet's care is always provided by a highly qualified veterinary professional.
A RVT is a veterinary professional formally educated to assist the veterinarian in all aspects of patient care.  In many ways, a RVT is like a RN for animals, but often the duties are more diverse.  In a single day, a RVT may act as a nurse, laboratory technician, radiology technician, anesthetist, dental hygienist, and client educator.
Each RVT completes a two-year program at an accredited institution and passes a Veterinary Technician National Examination prior to being licensed by the state.  Yearly continuing education is required to maintain licensure.
Veterinary Assistants
Our veterinary assistants are a multi-talented crew! You will find them assisting pet owners at the front desk, assisting the veterinary technicians with the medical treatments, or directly assisting the veterinarian.