Visit Checklist
Before your visit, please

 

download the patient registration form and e-mail (

[email protected]

) or fax (859-581-1858) it to us so we can have a record prepared.  If you are unable to do this, please plan to arrive about 10-15 minutes early to complete the form.

If another veterinarian has seen your pet, it is very helpful if you send or bring a copy of your pet's prior medical history.  Please be aware that due to new state laws, the prior veterinary office may require your signature to release the documents.

For the safety of all, we ask that every dog be leashed.  Shorter leashes (4-6 feet) are preferred over retractable leashes.  We also ask that each cat be contained in a carrier.  

If your pet has a tendency toward nervousness or aggression, please advise our staff when you arrive.  We will take extra measures to make the visit safe and comfortable for your pet.

Bring a list of questions you would like to ask.  This helps ensure that all of your concerns are addressed.

If you have any other concerns, please let us know!  We're here to help.
Office Policies
Appointment Scheduling:  We see our patients by appointment.  With that being said, we realize that illness has no time clock. If your pet has an unanticipated medical problem, we will make every effort to address the problem in a timely manner, while respecting the other pet owners that have established appointments.   An "Urgent Care" fee may apply.

Punctuality:  Please be on time for your appointment.  We like to spend time getting to know you and your pet, and tardiness not only affects the time we can spend with you, but it may also reduce the time available for the next patient.  If you find that you are running late, please call ahead so that we can make adjustments to accommodate you.  In some cases, we may ask you to reschedule the appointment.  When you arrive at your visit, please inform staff if you have specific time constraints (i.e. picking up a child, or another appointment, etc.) so that we can expedite your visit. 

No-Shows:   You will receive a reminder call one day prior to your appointment.   Messages will be left on voice mail if you are not available to confirm.  If you miss an appointment, you will receive another call to reschedule.  Repeated no-shows will be asked to make a deposit of $25 prior to making another appointment.   This fee will be applied to the next visit, however the deposit is non-refundable if that appointment is missed.   Missing any surgical or dental appointment, or cancelling one with less than 48 hour notice also requires a deposit to make the next appointment.  

Heekin Animal Hospital is a non-smoking and weapon-free facililty.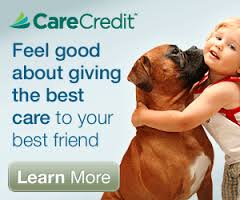 Payment is due at the time service is rendered.  We accept cash, checks (with a valid ID), bank debit/credit cards, Visa, MasterCard, AmEx, and Discover.  If your pet is admitted to the hospital, you will be asked to leave a form of payment. Your doctor will discuss this when reviewing the cost estimate. The remaining balance is due at the time of discharge from the hospital.
For unexpected expenses, we offer a payment plan administered by CareCredit.   CareCredit offers interest-free payment plans, and can be used at many human dental and medical facilities as well. You can fill out the application ahead of time on-line or on the phone.  CareCredit reserves the right to decline applications, and Heekin Animal Hospital has no influence in their decisions. To fill out an application, calculate payments, or to get more information, click the image or click HERE.